Houstonians will have the chance to vote in an important runoff election Saturday, December 9, on candidates who did not get 50% of the vote on Election Day — including our candidates for mayor. Early voting for the runoff will be November 27 through December 5.

Even if you didn't vote on Nov. 7, you can still vote in the runoff.

Our ancestors dreamed of a better life for their families and communities. Let's continue their legacy and vote for the next generation.


Key Voting Dates:
Early voting for the runoff: Nov. 27 through Dec. 5

Last day to receive a ballot by-mail application: Nov. 28

Runoff voting day: Saturday, Dec. 9
The polls will be open from 7 a.m. to 7 p.m. except on Sundays, when they'll be open from 12 p.m. to 7 p.m.
---

What's on my ballot?
In addition to the selection of our next mayor, the Houston controller's race and a number of at-large city council positions are all being decided in the runoff election.
---

Where's my polling location?
Voters in Houston are no longer restricted to an assigned Vote Center and can choose from any Vote Center in Harris County.

Find A Polling Location
 
---

Who can vote?
To vote in an election, you must register. To be eligible to register to vote:
You are a United States citizen.
You are a resident of the county where you are trying to vote.
You are 18 years old. You can register to vote if you are at least 17 years and 10 months old and will be 18 on Election Day.
If you have completed your sentence after having been convicted of a felony — including any term of incarceration, parole, supervision, or probation.
---

Have questions or issues?
Call the Election Protection Hotline at 866-687-8683 or visit 866OurVote.org
 
---



Want to help your community and protect our democracy? 
Nonpartisan poll monitors in Texas ensure eligible voters know how to cast their ballots and that their votes are counted. Poll monitors are the first line of defense if questions or issues come up at a polling location. 
Sign up for a free online training with the Election Protection coalition. 
---

How do I register to vote?
To complete a voter registration application, you will need:
An address in the county you are registering in.
A driver's license or social security number.
Once your registration is complete, you will receive a voter registration certificate in the mail.

The voter registration deadline is October 10, 2023.

Check Your Voter Registration Status
 
---

How do I vote by mail?
You must fulfill one of the below qualifications in order to vote by mail:
Be 65 years of age or older.
Be sick or disabled.
Be out of the county on election day and the entirety of the early voting period.
Be due to give birth in a three week period before or after election day.
Be confined in jail but otherwise eligible.
 
Your application and ballot will ask for a Driver's License or Social Security number. We strongly encourage people to include both numbers.
Your application must be received by the County Clerk by October 27, 2023. Your ballot must be received by the County Clerk by November 7, 2023.
---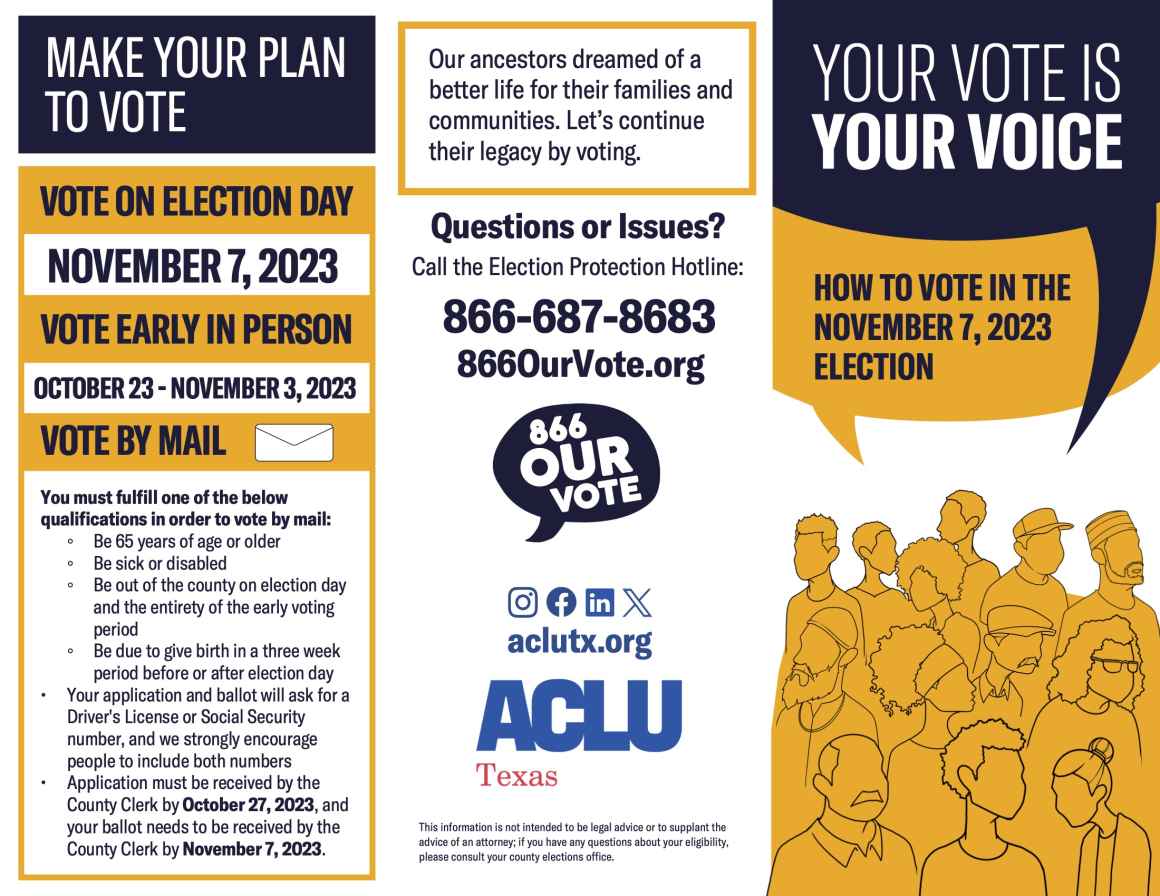 Your Vote is Your Voice

A free downloadable brochure that breaks down key information you need to know as a Texas voter. 

English

Tu Voto es Tu Voz

Un folleto descargable con información clave que es necesario saber como un votante de Tejas.

Note: The information on this page is not intended to be legal advice or to supplant the advice of an attorney; if you have any questions about your eligibility, please consult your county elections office.