The 88th Texas Legislature's regular session — from January through May 2023 — was one of the most authoritarian displays of government overreach in state history.
We called on legislators to use our unprecedented $32.7 billion budget surplus to prepare the electric grid for extreme weather, invest in public education across all zip codes, and make our justice system work for people of every race and income level. Instead, Gov. Greg Abbott and his political allies rammed through an unconstitutional slate of hate that will make our state less safe, less free, and less fair. 
While we secured some important wins, below are three ways our lives will change for the worse:
***
---
Trans youth and their families won't have access to life-saving health care under S.B 14, even though these same medical treatments remain available to everyone else.

UPDATE: The ACLU of Texas and partners filed a lawsuit and won in a Texas district court, although the Texas Supreme Court decided to allow the ban to take effect September 1 while our lawsuit continues.

Texas politicians' obsession with attacking trans kids and invading their personal lives is needlessly cruel. This age-appropriate care has been shown to improve trans kids' mental health and lower the risk of suicide.

Children deserve better than bullying masquerading as policy. 

Visit txtranskids.org for resources
 
We'll have less freedom to celebrate our bodies and artistically express ourselves under the "drag ban," S.B. 12, which is designed to push LGBTQIA+ Texans out of public life.

UPDATE: The ACLU of Texas and partners filed a lawsuit and won a termporary restraining order blocking the drag ban from taking effect September 1.

The law is extremely vague and gives officials the power to target performances they don't like. It bans and criminalizes any performance viewable by a minor that "appeals to the prurient interest in sex" — without defining that key term, which could be used to ensnare drag performers and Pride parade participants, as well as cheerleaders, comedians, dancers, actors, and more. 

No matter our race, gender, or sexuality, Texans should be able to express ourselves free from government intimidation and the looming threat of going to jail.
 
We're stuck paying the bill for so-called "Crisis Pregnancy Centers" that promote anti-abortion propaganda and endanger public health under S.B. 24.

After Texas politicians banned our right to abortion in 2021, they're now trying to replace the professional clinics that performed abortions with a sprawling network of unlicensed centers that use disinformation and delay tactics to force people into giving birth. These unregulated centers are not held to any medical or legal standards, so they can do and say whatever they want.

Whether you've been planning to have a family or didn't expect to be pregnant, all Texans deserve a government that respects our personal medical decisions and promotes accurate medical information.

get involved in your local community
---
---
Ineligible voters will face needlessly high criminal penalties under H.B. 1243 for casting a ballot.

It's already harder to vote in Texas than in any other state. Despite no evidence of widespread voter fraud, politicians increased the criminal penalty for illegal voting from a Class A misdemeanor to a second degree felony, like sexual assault and violent crime. Criminal penalties for voting are disproportionately used to target voters of color. This new law is designed to deter Texans who are unfamiliar with their rights from voting, especially first-time voters, people who recently moved to Texas, people with prior convictions, and people whose first language isn't English.

Politicians should want to earn our vote, not intimidate us from making our voices heard.

get information about voting

 
Our democratically elected local officials will lose the authority to best serve the needs of their communities under H.B. 2127. 

UPDATE: A judge ruled this law unconstitutional, although the ruling is being appealed. 

The same politicians working to suppress our vote are also trying to diminish its power. This sweeping bill gives state officials control of local decisions and allows them to ban certain basic regulations that are not yet written into state law, like those that protect workers and renters from abuse. In so doing, this law subverts the will of the people across the state. It will likely have the greatest impact on low-income Texans and those who benefit the most from these local protections.

No matter our race or politics, most Texans want a say in the decisions that shape our lives.

 
Our democratically elected local prosecutors could be ousted and replaced by Gov. Abbott under H.B. 17.

In an unprecedented power grab, the governor and his legislative allies created a new way to seize control of our local government when prosecutors choose not to pursue certain criminal charges. This new law gives state officials the authority to replace district attorneys for using their independent discretion to decide who gets charged. It violates the Texas Constitution and undermines local control.

From Austin to Amarillo, Texans are worth a government that respects the results of our elections.

Texans of all backgrounds traveled from across the state to oppose these vicious attacks on our civil rights and individual liberties. In response, state officials tried to silence our voices, even resorting to intimidation and violence.
While we didn't stop every bad bill, our advocacy was nevertheless powerful and inspiring.
---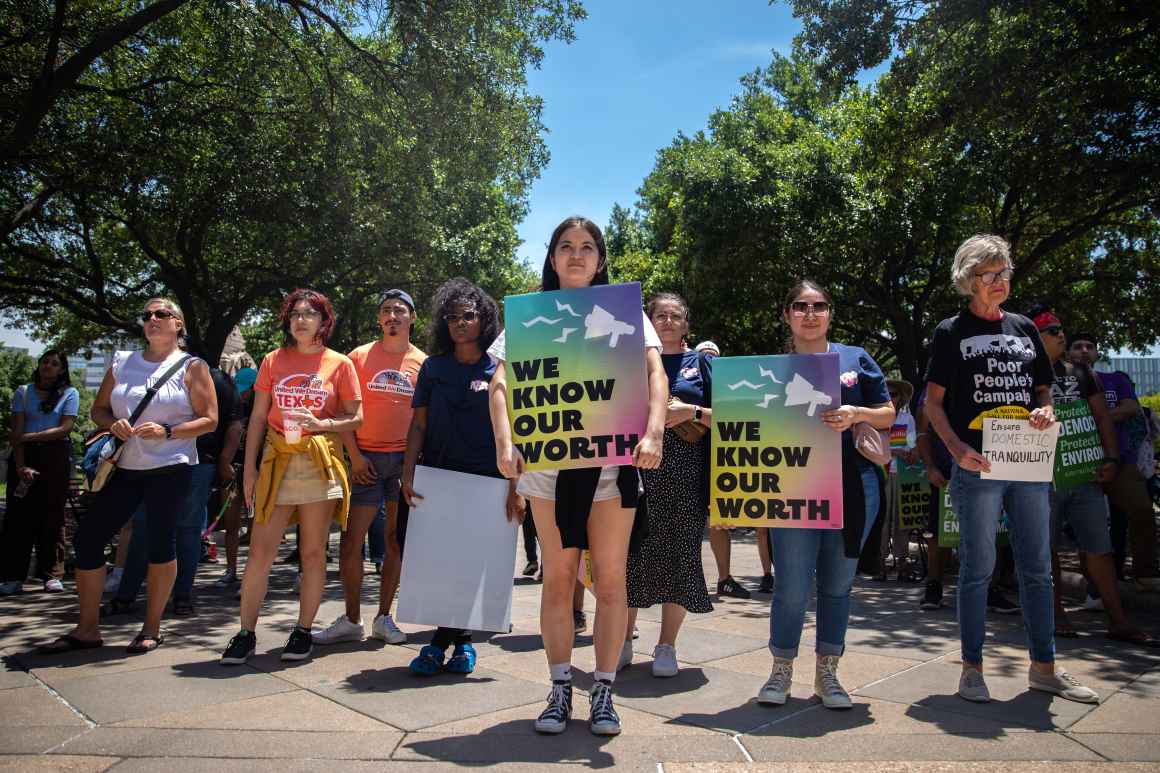 Photo: Montinique Monroe
In the process, we were able to claim some hard-earned victories, including:

No matter how hard state leaders try, they can't stop Texans from thriving. We know our worth. When we join together across race and place, we can demand what our families need to make a good living, pursue our dreams, and build a good life. 
The ACLU of Texas will be there, too — working with you in communities, at the State Capitol, and in the courts for a better Texas. 

Stay engaged by connecting with us and funding this work.