George Floyd is a household name throughout the world. The historic, record-breaking protests that were organized in the wake of his murder last summer amplified this country's long-held tradition of protesting injustice. Democracy depends on people being able to petition their government for change. The power of protest has spurred democratic reforms around the world, from the March on Washington in 1963 to protests at the Berlin Wall and Tiananmen Square.
Floyd's senseless murder sparked an outcry against police violence targeting Black and Brown communities and disabled people, as well as a renewed urgency to reshape policing to benefit all communities. Texas has had its share of Black victims of police violence and overreach, including Javier Ambler, Jamail Amron, Sandra Bland, Botham Jean, Atatiana Jefferson, Pamela Turner, Patrick Warren Sr. and too many others. All of them should be remembered. All of them should still be alive today. 
There is still more work to be done, and the ACLU of Texas is committed to continue doing it. We will:
continue supporting grassroots organizations and Black organizers to make racially equitable public safety a reality.
continue to fight for the passage of the Texas George Floyd Act, which provides for essential changes to limit police use of force, including banning chokeholds. The George Floyd Act was originally an omnibus bill that did not make it through the Texas Legislature. As of May, there are now three separate bills that have passed the House and are progressing in the Senate.
redouble our effort to create a world where police do not have the opportunity to use violence and harassment to target Black people, including removing police entirely from enforcement of low-level violations (such as minor traffic violations).
continue working with partners and ACLU National to divest from policing in favor of more holistic alternatives, pushing for the demilitarization of police forces, and strategically looking for ways to end racism in policing.
continue working closely with grassroots partners in the two largest cities in Texas, Houston and Dallas, with the largest police budgets in the state to reduce arrests, reform police practices, and reallocate police resources during each city's budget process during summer 2021.
continue documenting police violence against protesters. We helped law students in the Criminal Defense Clinic at the Texas A&M University School of Law publish a Zine to document the Dallas Police Department's violent treatment of Black Lives Matter protesters in 2020.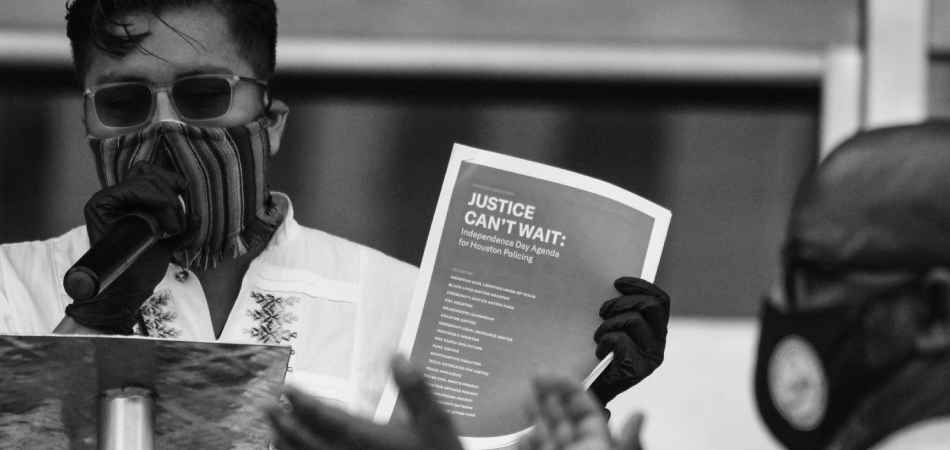 In Dallas, we are:
continuing to push for the recommendations in our Dignity for Dallas report. 
focused on passing a citation in lieu of arrest ordinance through the Dallas City Council, which could reduce unnecessary and racially disparate arrests by up to 7,000 per year.
working with partners to prepare our communities to participate in the budgeting process as the city develops its budget for fiscal year 2021-22.
calling for the city to cut the Dallas Police Department budget by at least 35% and reallocate resources to community safety and wellness initiatives. 
encouraging people to attend two virtual tele town hall sessions to learn about the city's budget priorities. In August, there will be additional town hall meetings hosted by city council members for public engagement.
In Houston, we are:
continuing to advocate for the recommendations in our Justice Can't Wait report. 
pushing for enforcement and improvement to a citation in lieu of arrest policy adopted by Executive Order in September 2020. When implemented, we estimate that the policy should reduce Houston Police Department arrests by at least 3,000 each year, which will also reduce the number of people funneled into the deportation pipeline.
advocating alongside community partners that the City of Houston reallocate a portion of its large police budget to non-police alternatives. 
urging city leaders to pass an ordinance and reallocate resources to non-police emergency responder programs.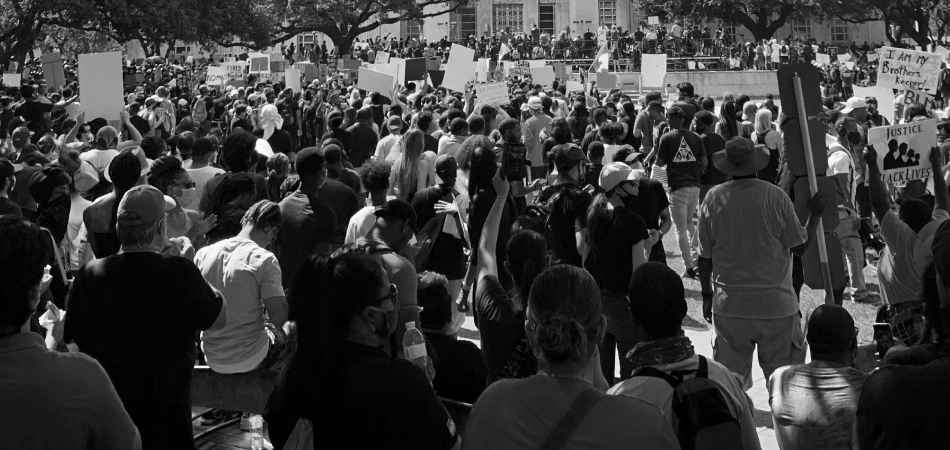 Sign the petition to support the Texas George Floyd Act, which will implement urgent, meaningful changes to reduce police violence in Texas.
Join the virtual day of action organized by The George Floyd Memorial Foundation.
Sign up to receive our action alerts when civil liberties are under attack.